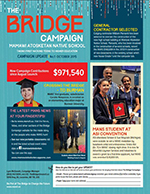 Campaign Update No.1 October 2015 - (PDF)
Some exciting things have happened since The Bridge Campaign launch in August. Read all about it in the October 2015 Campaign Update.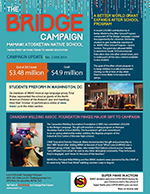 Campaign Update No.2 January 2016 - (PDF)
MANS kids learn early about working together to give back. Learn about MANS' new partnerships and find out what the students are doing for the communities outside their reserve in the January 2016 Campaign Update.