The Community Services Department of the Alberta Conference seeks to provide humanitarian relief, community development, and community outreach in order to empower and enable citizen's for the glory of God.
We provide services such as Disaster Response which is a first response team equipped with necessary resources to assist individuals, families and communities affected by natural disasters and unforeseen tragedies.
We are developing leadership programs which focus on social entrepreneurship that will equip citizens to create positive and lasting change for our community.
Our aim is to build collaborative partnerships with communities with the goal of working together to create a safe and successful society for all.
Adventist Community Services Offering 2015 Video
---
Downloads
ACS in the Media
Services and Programs Offered by the Alberta Adventist Community Services Department
STORMCo (Service to Others Really Matters)
MISSION
To send teams of trained young people to work for, learn from, and encourage individual communities; sharing God's love by building bridges to all peoples through an adventure in service to others.
Each year hundreds of young people give up their time and money to travel to a community to serve the area in a beneficial way.
There are no set agendas or projects. No expectations of reward and no limits or boundaries! STORMCo teams approach the local communities and ask them what their needs are. The local Seventh-day Adventist pastor in the community can help to make important connections for the STORMCo Adventure in Service.
WHAT IS STORMCo?
STORMCo is a youth initiative of the Alberta Seventh-day Adventist Conference organized under the banner of the Adventist Development and Relief Agency (ADRA).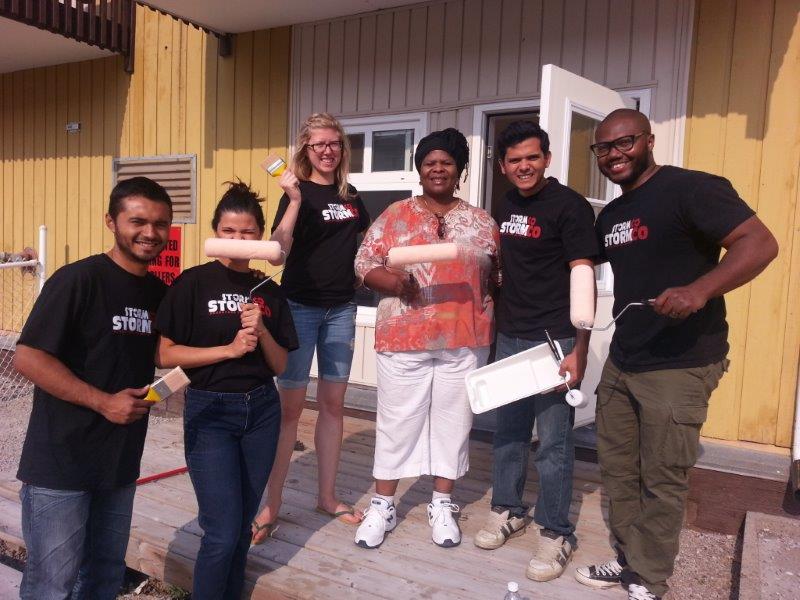 STORMCo hard at work.
YES (Youth Empowered to Serve)
Adventist Community Services believes in active Youth and Young Adults, specifically in regards to Ministries of Compassion – more commonly known as Community Service.
Fundamentally rooted in the mission statement of Adventist Community Services [ACS], "Serving Communities in Christ's Name," YES! is the program through which ACS strives to promote and develop Ministries of Compassion among young people.
What is YES!?
Youth Empowered to Serve (YES!) is a ministry that engages and networks youth and young adults in Service Ministries (Ministries of Compassion) for the Seventh-day Adventist Church in North America. YES! is fundamentally rooted in the mission statement of ACS: "Serving communities in Christ's name."
What is the Mission of YES!?
To develop an active spirit of service among youth and young adults.
Disaster Response
What is ACS Disaster Response?
Adventist Community Services volunteers provide disaster response services through the ACS Disaster Response Ministry to assist individuals, families and communities affected by natural disasters and unforeseen tragedies.
Who comprises the ACS Disaster Response Ministry?
The ACS Disaster Response Ministry is comprised of volunteers who form local disaster response teams that are organized by the community Services Director of the Alberta Seventh-day Adventist Conference. These volunteers are trained to assist in disasters and calamities within the province of Alberta.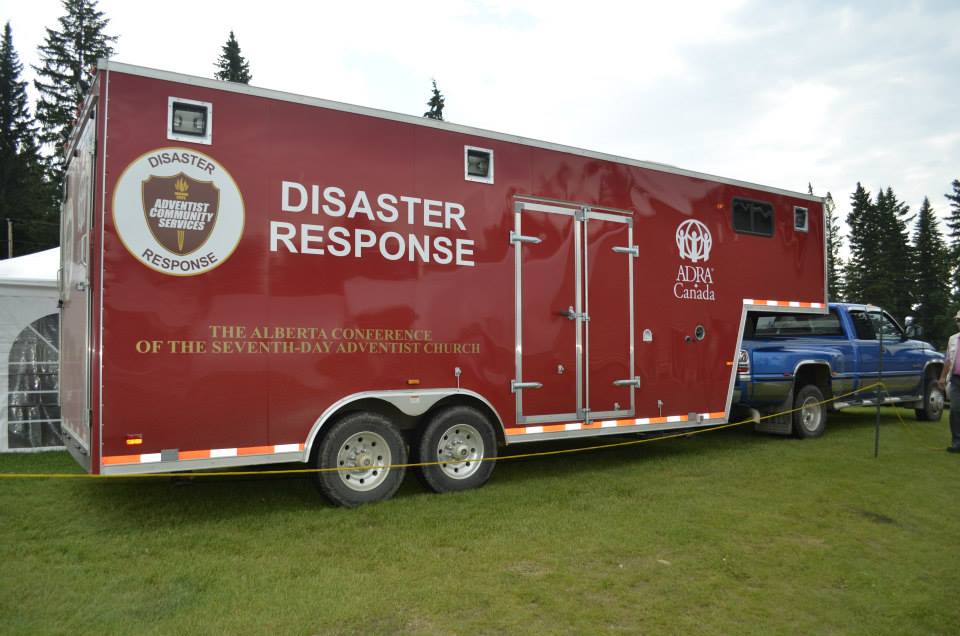 Disaster Response Trailer
Community Development/Urban Ministries
Trained personal can provide vital help to individuals and families who are unemployed, working-poor, uninsured and disadvantaged in poverty stricken and urban areas. Community Development offers relief services, promotes individual and community development that includes equipping community members with skills to become self-sufficient and engages in public advocacy. This program addresses problems that plague urban areas like drugs, violence and crime and organizes individuals into community protection and empowerment groups through innovative methods.
Central Alberta Adventist Community Services Centre
is a soup kitchen located in Red Deer, Alberta. It feeds the homeless population of Red Deer twice a week.
Lacombe Food Bank & Clothing Centre
is an Adventist Community Services Centre that helps to feed and clothe the community of Lacombe, Alberta.
---
Related Department Downloads