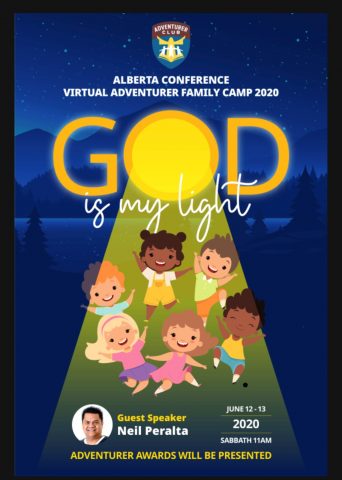 2020 Virtual Adventurer Family Camp
Dates: June 12-13 2020
Theme: God Is My Light 
Guest Speaker: Neil Peralta 
How to watch: 
General Info & Schedules 
Or use this link  https://www.albertaadventist.ca/news/alberta-conference-announcements/virtual-adventurer-family-camp-2020---general-info--schedules
NOTE: Registration is NOT necessary to watch the virtual program. However, if you want to participate in the Award Classes please submit your personal information via the FORM below and get access to our Google Classroom.
We are excited to "see" you there! 
AWARDS REGISTRATION
Link to https://docs.google.com/forms/d/e/1FAIpQLSfPZjAp1wgX217wmJNZASoudRD45uy8Q6SgK_IyRyXzIac5RA/viewform
Adventurers Virtual Camp Awards Registration

We will be presenting the NEW and recently release NAD Adventurers Awards!! Cupcakes & More: Saturday - June 13 @ 01:30 pm Animal Footprints: Saturday - June 13 @ 03:00 pm After registration, you will receive an email with details to join our Google Classroom. if you have questions please Text/WhatsApp at 1 (403) 318 0123 or email to abvirtualcamp2020@gmail.comGod Bless!!

docs.google.com
Contact Information
For the latest updates visit our FB event at  https://www.facebook.com/events/299177874443965/
For more Information contact: adventurers@albertaadventist.ca