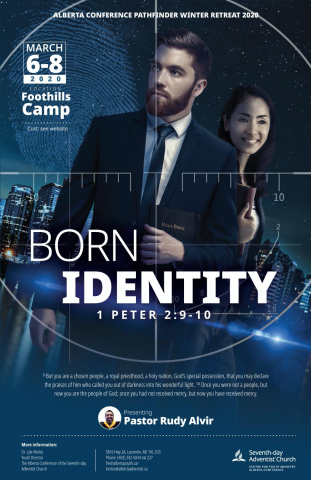 Our Theme for Winter Retreat this 2020 is
"Born Identity."
God says in 1 Peter 2:9, "But you are a chosen people, a royal priesthood, a holy nation, God's special possession, that you may declare the praises of him who called you out of darkness into his wonderful light."
In a world filled with peer pressure and temptation, many pathfinders are struggling with their identity and who they are supposed to be. The idea is that Jesus knows who we are supposed to be, our identity is found in Christ.
When we give our lives to Jesus Christ and we are born again, we have a new Christ identity.
Our special guest speaker for this year's Pathfinder Winter Retreat is Pastor Rudy Alvir. Pastor Rudy currently pastors the Red Deer SDA Church and also assists the Youth Department with the Uniform Ministry responsibilities.
Pastor Rudy loves youth ministry and has been working in youth ministry for over a decade.
This year's Winter Retreat will take place at Foothills Camp. You don't want to miss the 2020 Pathfinder Winter Retreat. 
We will be facilitating PBE (Pathfinder Bible experience) on Sabbath afternoon.
The study books for 2020 are the following: Ezra, Nehemiah, Hosea, Amos, Jonah, and Micah. From Ezra and Nehemiah, the Pathfinders will not be responsible for the following:
Ezra 2
Ezra 8:1-14
Ezra 10:18-44
Nehemiah 7:7-63
Nehemiah 10:1-27
Nehemiah 11:3-12:26
Click for more Pathfinder Bible Experience information
There will be lots of games and activities this weekend