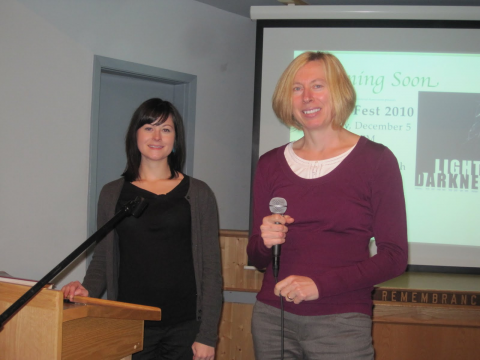 It has been said that, "All that is necessary for the triumph of evil is that good men and women do nothing." On Saturday, October 16, the Yellowknife Seventh-day Adventist Church took steps to increase awareness of family violence in their community so that we can help the people of Yellowknife find hope and healing.
Everyone is affected by family violence. Some of us have personally experienced it. Some know someone who has experienced it. Some are the cause, the source of it. It's everybody's problem. To get involved, Pastor Brad Dahr invited two community members to come and speak to the church. Rebecca Latour has been working in the field of family violence for 25 years. She has worked with children, young offenders, abused women and families. Currently she is with the Department of Justice working on family violence initiatives which have included family violence legislation and recently a program for men who use violence. Assisting Rebecca, was Hayley Maddeux Young, the family violence consultant with the Department of Health and Social Services. Hayley works closely with the shelters across the territories and Chairs a protocol committee of front line agencies in Yellowknife that respond to family violence.
Rebecca and Hayley began by defining what family violence is. It's not when someone gets angry or slams a door. It's not even when there is an argument. Certainly those actions may happen in a family violence situation what we need to be aware of is the systematic use of violence to control, have power over, or manipulate others.
People use violence in many ways to control others: Family Violence isn't just about hitting; it includes;
Harming a family member or damaging family property;
Causing a family member to fear for their safety or the safety of a person in his or her care;
Sexual abuse;
Psychologically, emotionally or financially abusing a family member which causes harm or fear of harm.
Isolating from friends and supports or access to finances;
Ridiculing, criticizing (no one else would want you);
Blame family members for the abusers behaviour. (If you weren't so…… I wouldn't have to be angry, unfaithful, etc….).
If you think you may be at risk, a key question to ask is, "Am I altering my behaviour because I am afraid of what my partner/spouse/parent will do?" If the answer is yes, you may be experiencing family violence and you should reach out to resources in your community for help.
There are many misconceptions about Family violence. It is often mistakenly referred to in mutual terms: for example "a couple is not getting along" or "they are having a little fight". This kind of language hides the truth of family violence. This kind of language mutualizes the violence and suggests the victim is as much to blame as the abuser. Sometimes, looking from the outside; in can appear that "it takes two to tango" or that "they are both as bad as each other." However, when we look closely – there is always a primary aggressor and a victim's violence is in the context of the primary aggressor's violence.
Sometimes we explain family violence as a type of explosion that was beyond the control of the angry person. "They couldn't help themselves". When we take a closer look we can see that this isn't true. Family violence is targeted. An individual who is violent to a family member may be, minutes later, respectful and appropriate to their boss or a friend on the phone. Even very violent people act non-violently in most situations. This truth is very hopeful. As people choose to use violence, they can choose to be non-violent.
Rebecca and Hayley also provided solutions for those that have experienced violence, for those that have witnessed it, and those that are using violence. The bottom line is reach out, make the call, get help. The presentation was closed with a garden of prayer asking God for courage to do what it takes to make family violence history within our community.
The Seventh-day Adventist church has been serving the Yellowknife community for over 30 years and is delighted to be sharing the hope of Jesus Christ with the people of Yellowknife. The church can be found on the web at www.yksda.org
Brad Dahr, Pastor