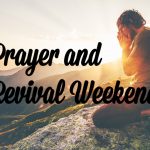 Prayer and Revival Weekend
March 15, 2024
Events History
Calgary Prayer Summit 2016 entitled, Above and Beyond: Keys to Personal Revival and a Lifestyle of Vibrant Living in Christ will be held at the Calgary Garden Road Church (155-100th St. NE, Calgary), July 29-31, 2016. Guest speaker is Melody Mason who works with Prayer Ministries at the GC and authored the book Daring to Ask for More, published by the Pacific Press in 2014. Register for this free event before July 24. A poster is available online. For more information, please contact Honey Todd by email at htodd@albertaadventist.ca or by phone at (403) 239-1857.
Prayer Conference: Calgary Central Seventh-day Adventist Church - September 20-21, 2013
How to Pray for and Hour and Love it - Friday, September 20 - 7 p.m.
Entering In: The Way to Powerful Prayer - Sabbath, September 21 - 11 a.m.
God Talks: Asymmetric Communication - Sabbath, September 21 - 3 p.m.
The Experience - Sabbath, September 21 - 4:30 p.m.