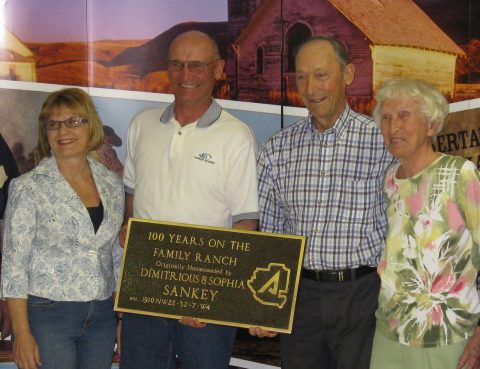 At a presentation June 14, 2010 in Consort, AB. the Sankey family were among others who received plaques recognizing the holding of an original homestead within the family for 100 years.

On April 2, 1910 Dimitrious Sankey filed to homestead on a quarter of land in what is now known as the Hemaruka area in east central Alberta. Of particular significance is that it was within the Palliser Triangle, an area of typically very low moisture in south-eastern Alberta. When significant numbers of settlers abandoned their holdings in the 1930's due to extreme drought, and local government was not possible, the area came under the jurisdiction of the provincial government and became known as the Special Areas.

Dimitrious and Sophia became Seventh-day Adventist Christians in 1914 and helped establish a church in the area. There has been an Adventist presence (Loyalist Church) in the community ever since.

Despite extreme hardship Dimitrious and Sophia persevered on the land and with hard work raised 8 children and increased their land base. They and their descendants have contributed in their churches and communities locally, provincially, in the United States and in mission service.

That the Sankey family has been in agriculture in the area for 100 years is a testament to that same perseverance and partnership with God shown by previous generations. The land is currently owned by the son, grandson and great grandson of Dimitrious – Steven, Murray & Scott Sankey.