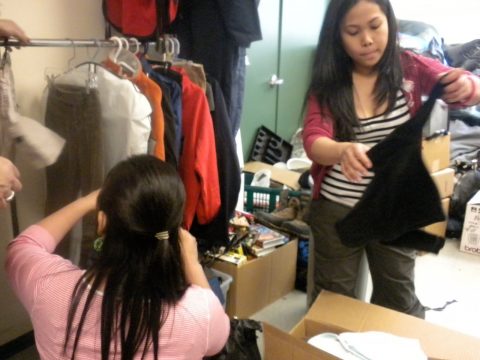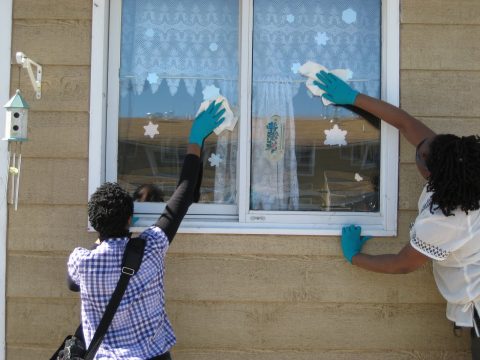 (June 7, 2010) What do you get when combine the blatant copying of a popular TV show, 40 enthusiastic church members, and a town desperate for the hope of Jesus Christ? Yellowknife's first ever Amazing Sabbath Race! At 2:00 PM on Sabbath, May 29, 2010, seven teams were given their first clue to an afternoon of fun and community service. The teams completed their five service tasks with big smiles and in the process received many thank yous from the people they helped.

The race went like this: Each team received a clue to a checkpoint somewhere in the city. Once they reached the checkpoint, teams had to complete a task. Once they completed their task they received their next clue and the race continued until the finish line.

"We started out with something really easy," said Pastor Brad. "At the first checkpoint, teams simply had to take a picture of their whole team featuring the checkpoint area. Then the tasks became more difficult requiring teams to stretch out of their comfort zones." Over the course of the race, teams had to help a grocery store with facing shelves, clean washrooms at a gas station, sort and fold bags and bags of donated clothes at the Salvation Army Thrift Store, go to a low income housing complex, pick two homes and clean their front window and tidy up their front yard, and give out bottles of water - lots, and lots of bottles of water. At both the housing complex and water bottle giveaway checkpoints, teams had to also leave little calling cards from the church.

Community reaction varied from appreciation to deep gratitude. The gas station manager (an ESSO/Macs store) took pictures and said he would send the story in to their national newsletter. He also told Pastor Brad that if the church ever needed help with a community service event to let him know because they would support it. At the housing complex, residents were very happy for the helping hand. One resident asked if the team cleaning her window could also clean her living room window (a much larger window that was not part of the checkpoint task). The team said yes! She was so happy she called her friends on the telephone and spread the word on what was happening.

At the finish line, on top of a look out known as Pilot's Monument, teams cheered each other on to finish. The event ended with some treats, sharing of race stories, and the singing of "Side by Side." As the organizing team reflected on the afternoon, thoughts of next year and Amazing Sabbath Race 2 came to mind...