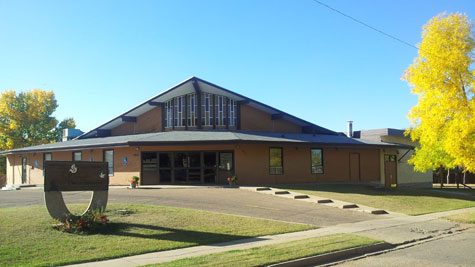 For the past 11 years, the 30 member Camrose Adventist Church has been renting space for Sabbath services from various congregations while fervently praying that God would bless them once again with their own building. In the past, the Camrose Seventh-day Adventist Church has operated its own buildings on and off since the 1920's but has never been able to maintain a consistent presence in the community. Over the years, many faithful members have reignited the spirit of outreach in the community and built up a congregation only to have to sell their building as economic forces compelled many members to move on. Most recently in 2001, the church was forced to relocate its aging building on the heels of a city expropriation. Unfortunately the costs of meeting updated building codes proved to be too high and the congregation was forced to demolish its beloved church building that same year.
Discouraged but not defeated, the congregation continued to raise funds believing in faith that God would one day restore to them a house of worship. In July of this year, a retired Pentecostal pastor, who has faithfully attended our congregation for over 20 years, advised us that the Camrose Calvary Pentecostal church was being privately offered for sale. As it turned out a number of other churches and organizations were interested as the availability of church zoning has been severely restricted in Camrose in recent years. In faith, our congregation voted to act quickly and was first to submit an offer of 1.15 million dollars for which they had only $400,000 in assets. A leap of faith indeed, especially since they only had 90 days to raise the remaining funds! Not to be deterred, Members diligently and prayerfully set to work to make known among friends, relatives, and former members the substantial need. Sadly, we fell short by $200,000 dollars as the deadline came and passed and regretfully advised Calvary Pentecostal that we would not be able to remove the financing subject to clause on the purchase.
As it turned out, this was not the first time that the Calvary Pentecostal and Camrose Seventh-day Adventist Churches had rubbed shoulders on buildings. Pastor Clayton Milgate of Calvary Pentecostal, reminded us that back in the 1920's, they had rented and eventually purchased the Camrose Adventist Church for the sum of $1,000. The tables had turned and as we consulted our local church history, indeed it was so! Determined to make this work, Calvary Pentecostal first offered an interest-free loan for the outstanding amount. Unfortunately the Canadian Union advised that the added monthly outlay would be too burdensome for our small congregation. Once again we offered our regrets. In a moment of prayer and reflection, Calvary Pentecostal realized that the church property had included an adjacent unused lot that was already subdivided. By removing it from the deal, they felt that they could sacrificially meet the $901,000 that we had fundraised as the purchase price and conclude the deal.
Hallelujah! Thanks to God's miracle of timing and fundraising, the generosity and selfless giving of our friends, family, and members, and the determination of Calvary Pentecostal's leadership to continue to bless our long history together, the Camrose Seventh-day Adventist Church is once again restored to prominence in this wonderful community.