Update July 15-2013
Tomorrow, July 16, Operation High River will be helping to clean up George Lane Park at 323 Macleod Trail SW, High River, Alberta.
Update July 8-2013
Operation High River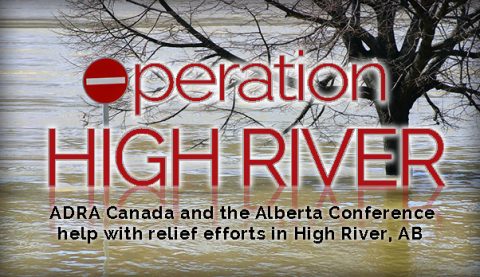 This morning James Astleford and Anita Odoni from ADRA Canada met with individuals from the Alberta Seventh-day Adventist Conference to discuss the relief efforts taking place in Calgary and High River, AB. During that meeting an idea emerged that would provide even greater help to the flood victims of Southern Alberta. It's called "Operation High River," a mission project that will provide opportunity to help those in need.
For those interested in getting their hands dirty in service to others this camp meeting, a bus will be provided to transport people from Foothills Camp to High River, AB each day from Sunday, July 14 - Friday, July 19. There are only enough seats for 50 people - sign up quickly at the ADRA Canada tent. The bus will be leaving Foothills Camp at 9 a.m. and returning from High River at approximately 6 p.m. Gloves, masks and water will be provided - don't forget to bring your rubber boots.
If you'd like to give financially to the Alberta relief efforts, please do so online at https://www.adra.ca/Donate or by calling ADRA at 1 (888) 274-ADRA (2372). Please specify that it is for the Alberta Disaster Response.
ADRA Canada on the Ground in Alberta, Sunday July 7, 2013
Over 65 ADRA Canada volunteers arrived in High River Sunday 7/7/13 to help the town dig out of the mud and devastation caused by the floods.
Most volunteers were either from the Calgary Seventh-day Adventist Churches, or friends/relatives of members.
ADRA Canada liaised with the Red Cross in particular, also some other agencies. The Red Cross provided safety orientation, protective gear and tools.
Volunteers helped people empty the mud from their basements after the water had been pumped out. They also helped small businesses clean out their premises, and one church property.
Still much work to be done, especially as flooding continues to recede. Although insurance coverage and provincial grants will help many people, the ADRA Canada volunteers filled gaps and provided a human touch.
One community leader asked about ADRA Canada and said: "I guess most of your work is overseas. This must be strange for you to have to get involved in our own country. My service club is facing a similar challenge. Thank you, Pastor, for all that you and your group are doing."
Photos July 6, 2013
Mark Johnson Tours High River, AB Disaster Area
High River, AB Photos July 4, 2013:
Update June 21-2013
Things are evolving fast in this rolling disaster. Here is an update regarding the Southern Alberta flooding and the Alberta Conference response so far.
Two of the Alberta Conference's larger churches are currently designated as reception centers for the displaced- Calgary Garden Road which already has about 30 individuals under their care and Calgary Central is on standby ready to receive displaced on short notice.  
ADRA Canada has pledged $10,000 for immediate DR response to start and the Alberta Conference has matched this amount for a total of $20,000. Your local church can also put in funds that you may have available to leverage more financial resources.
If the initial $20,000 currently pledged does not meet the revised needs dollar amount, both ADRA and Alberta Conference will look at revising the pledges accordingly.
Please check back for more information.