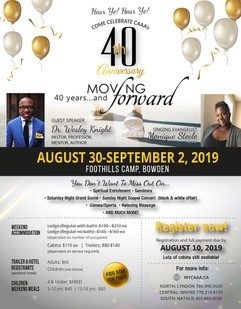 CAAA 40th Anniversary - Forty Years and Moving Forward (Aug. 30-Sept. 2)
The Caribbean Association of Adventists in Alberta (CAAA) is delighted to invite you to our 40th anniversary celebration August 30 - September 2, 2019, at Foothills Camp. The theme for the weekend is, "Forty Years and Moving Forward". 
Everyone is welcome to share in this Spirit filled experience. The activities for the weekend include life changing messages, concurrent workshops, an old time social, sports activities, a concert, fee for service therapeutic massages, Caribbean cuisine and scholarship awards, all wrapped up in a Spiritual atmosphere. 
The speaker will be Dr. Wesley Knight, who resides in Georgia. Dr. Knight is a preacher, author, professor, mentor and agent of change. He is also the Co-Founder of Communiversity, a Non-Profit organization that provides leadership training, ministry consulting and community empowerment both nationally and internationally. 
We are also excited to have a singing evangelist, Monique Steele, with us this year. Monique, studied Music Performance at Washington Adventist University and has been blessed with an amazing voice.
CAAA will be disbursing a number of scholarships to worthy students at the weekend family camp. Scholarship forms and information are available on the website below.
The lodge is sold out, however, there are cabins still available so please check out our website at www.mycaaa.ca for registration forms and more information about the weekend.