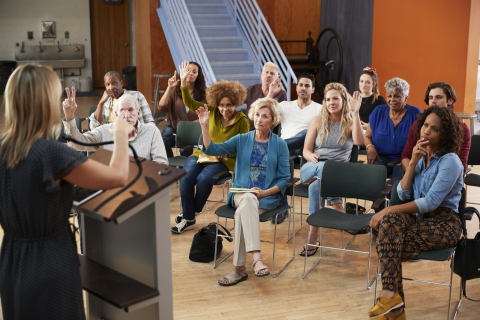 The Alberta Conference of the Seventh-day Adventist Church Town Hall Meetings
September 12, 2019, Calgary Central SDA Church          
7:00 pm – 8:30 pm
Calgary area and South/Southeast – Medicine Hat and Lethbridge
September 26, 2019, Red Willow Community Church    
7:00 pm – 8:30 pm
Edmonton area/ Northeast and Ft. McMurray (Live Stream)
April 16, 2020, Northwest Area 
Place and time to be determined         
Grande Prairie/Peace River/Surrounding areas and Yellowknife (Live Stream)      
May 4, 2020, Central Area
Place and time to be determined
NOTE: Live Stream will be available for some meetings
Common questions:
Should each church send delegates to the Town Hall Meeting?

No. Town Hall Meetings are open to all church members.  Therefore, delegates are not required at the Town Hall Meetings. Delegates are required for the Quinquennial Session only and are voted by the local church board. 

If church boards have already sent in discussion points, can other questions be asked during the Town Hall Meeting?

Yes. However, if there are specific details and statistics required in the answer, it may be deferred to an email response after the meeting.

Will there be an Agenda?

Yes.  The Agenda will be posted on the Conference website 2 weeks prior to the date of the Town Hall Meeting.